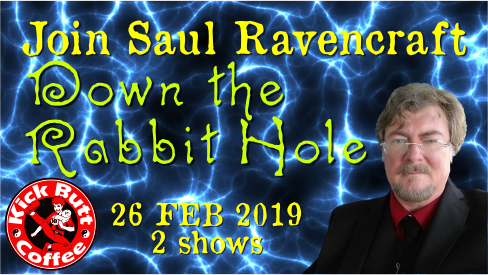 Join Saul Ravencraft live, 26 FEB 2019
What: An evening of weirdly wonderful entertainment
Where: Kick Butt Cafe, 5775 Airport Blvd. Austin, TX (map)
When: February 26, 2019, 7pm and 9pm
How much: $5 general seating; $15 preferred seating (reserved table for 2)
Come be a part of history as Saul Ravencraft does two rare public performances at Kick Butt Cafe, sharing the kind of entertainment he provides at private and corporate events.
There will be two live shows, exploring the powers of the mind, the strange, and the ghostly. It's a wild ride into the realm of both shadow and substance, of things and ideas. It will be theatre that happens before your eyes and deep within your own mind. "There are more things in heaven and earth, Horatio, than are dreamt of in your philosophy."

Saul will also be recording these programs as part of his promotional reel, so it's your chance to help build the dream. Come be a part of history for less than the price of a good beer.

Tickets are $5 for general admission. There are a limited number of premium tables for 2 for $15.
Purchase tickets online at Brown Paper Tickets.
—–
PLEASE NOTE: By attending this show you agree to be recorded and that footage used for commercial purposes. (See agreement details.)