Ravencraft's Vault of Horror is a monthly celebration of pre-2K horror. From the earliest days to the glorious rubber-filled 80s and beyond, we enjoy popular classics and some hidden gems. Saul Ravencraft is your host, aided by the mysterious Perciful Perkins. In between reels you never know what will happen. Interactive explorations. Strange happenings.
Keep up with our events.
Join the conversation.
Events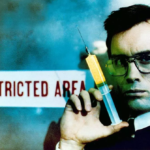 When: November 12 (second Monday). Doors open for dinner and drinks at 7:00pm. Film starts at 8:00pm.
Where:
Mister Tramps, 8565 Research Blvd, Austin, TX 78758 (
map
)
Join Saul Ravencraft and the mysterious man from the vault, Perciful Perkins, ...