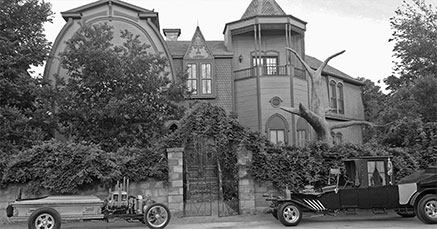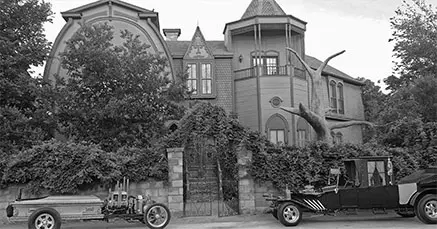 I spend a good deal of time at the Museum of the Weird in Austin, Texas. I'm also a regular participant in the Austin Horror Society, and have just begun hosting my own monthly horror film events, Ravencraft's Vault of Horror. So, I appreciate the kind of passion that goes into creating something like the Munster Mansion in Waxahachie, Texas.
This incredible home belongs to Sandra and Charles McKee, and is the result of Sandra's passion for the 1960's TV show, The Munsters, and the utter devotion Charles has to his wife. The building is a realization of what 1313 Mockingbird Lane. I say realization, because there was not real model of this home. It existed as sets on the TV show. Sandra watched the shows again and again to design the blueprint. She used the paces of Lily Munster (Yvonne De Carlo) to determine the scale. What resulted is nothing short of incredible. You can see the painstaking detail in their gallery, but the pictures do no justice to what it's like to actually be there.
On October 21-22, 2016, they had their open house. This is a big charity event where they give tours and have entertainment and activities. The rest of the year this is their private home and is not open to the public. I shared a stage with Merlin the Wise, who I work with at Sherwood Forest Faire. Merlin entertained with his family-friendly magic and I did… weirder stuff. 🙂
All in all, it was a wonderful experience. If you ever get the chance to visit in person I highly recommend it. Here are some glimpses of my view of it all.