Sherwood Forest Faire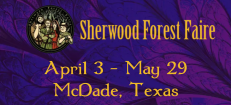 Event Location:
Sherwood Forest Faire
Join the fun and festivities in the realm of King Richard and Robin Hood. Tickets are available through Sherwood's ticketing.

Event Timelines
Ravencraft Royal Occultist
Featured on the Horseman Stage at 1:00pm and 6:00pm, helping you explore your intuition and connect with the spirits.