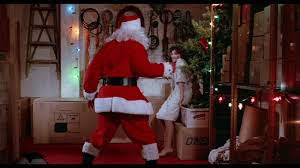 Next Vault of Horror: Silent Night, Deadly Night
It's Christmas in July, far away from the cold (not that it ever gets TOO cold around here). What better way to celebrate than with a crazed, murderous, Santa impersonator? This movie was banned for years and outraged mothers across the nation. The version we will see is the unrated, uncut version, so we hope you're not too squeamish!
We will have some other festivities as well, so come ready to play!
This interactive event takes place in the amazing 3-screen viewing room at Mister Tramps, where there's not a bad seat in the house. Saul leads the proceedings with help from his sullen assistant. Enjoy each horrible reel with a live audience, the way they were intended to be seen. In between reels, Saul will share some of his paranormal entertainment, featuring some of his strange artifacts and "games" designed to push the boundaries and prove that there are, indeed, more things in heaven and earth than are dreamt of in your philosophy.
Donations from this event will go to Prevent Child Abuse America.
Mister Tramps has a fantastic food and drink menu, so come hungry. The more food and drink you buy the more they love us!
When: Monday, July 9, 2018. Doors open at 7:00pm for Dinner. Movie starts at 8:00pm
Where: Video Room at Mister Tramps (map)
Join: Join the event on Facebook. Share with friends!