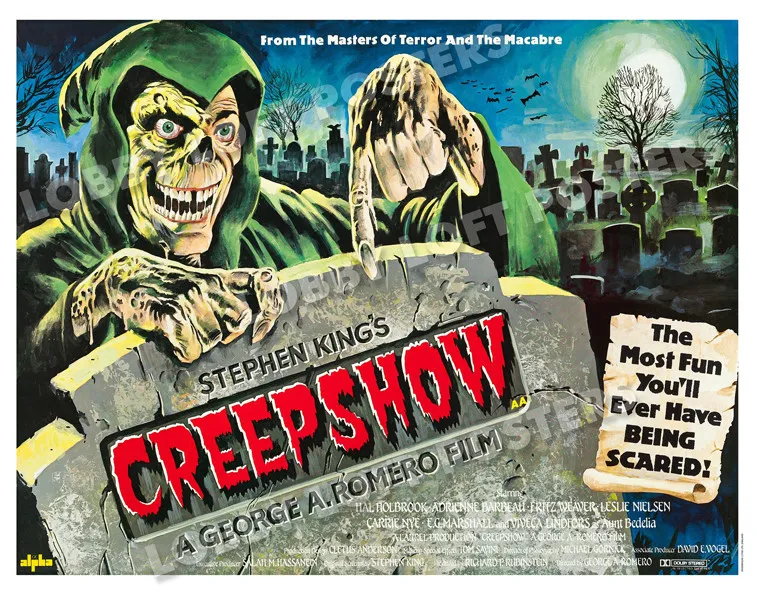 The most fun you'll ever have being scared
It's 1982 and 80s horror is starting to come into its own. Stephen King is becoming a horror legend, and George Romero has become a reliable courier of thrills. They combine their talents with a number of popular stars of the day to pay homage to the horror comics that helped make them. The result is Creepshow!
True to its roots, Creepshow offers an anthology of creepy tales, complete with flash graphics and framing that feels like an old comic book. The gallows humor is present as characters stumble their way through supernatural encounters. It's a fun ride!
You get two opportunities to join Saul Ravencraft for this celebration of horror. Come early to enjoy the pre-show reel. Saul will provide commentary in between the reels and deepen your appreciation for how this film came to life.
September 11th, at Mister Tramps. Great food and beverages in the private viewing room. (21+ Venue) Just show up. Preshow starts at 7:30pm. Feature begins at 8:00pm. (Join Facebook Event)
September 13th, at Doc's Drive-in. Food menu in addition to typical movie snacks and a chance to chill afterwards in the amazing underground speakeasy. Film shown on the gigantic drive-in screen! Preshow at 7:30pm. Feature starts at 8:00pm. (Join Facebook Event)