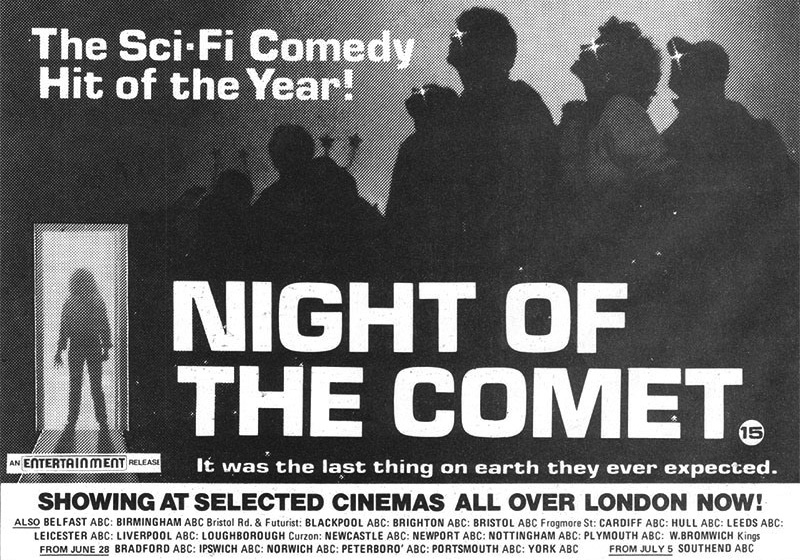 Teenagers rule in Night of the Comet
What happens when teenagers rule the earth. What? You think they already do?
1984's Night of the Comet takes into a world where a comet has a catastrophic affect on the earth, wiping out much of civilization and leaving many as flesh-craving zombies. A pair of teenage girls, who seem to have escaped these effects survive with flair as they avoid being eaten or experimented on by zealous scientists.
If you were there in 1984, this campy film will take you back. If you weren't there, then watch and be amazed!
You get two opportunities to join Saul Ravencraft for this celebration of horror. Come early to enjoy the pre-show reel. Saul will provide commentary in between the reels and deepen your appreciation for how this film came to life.
February 8th, at Doc's Drive-in. Food menu in addition to typical movie snacks and a chance to chill afterwards in the amazing underground speakeasy. Film shown on the gigantic drive-in screen! Preshow at 6:30pm. Feature starts at 7:00pm. (Join Facebook Event)
February 13th, at Mister Tramps. Great food and beverages in the private viewing room. (21+ Venue) Just show up. Preshow starts at 7:30pm. Feature begins at 8:00pm. (Join Facebook Event)