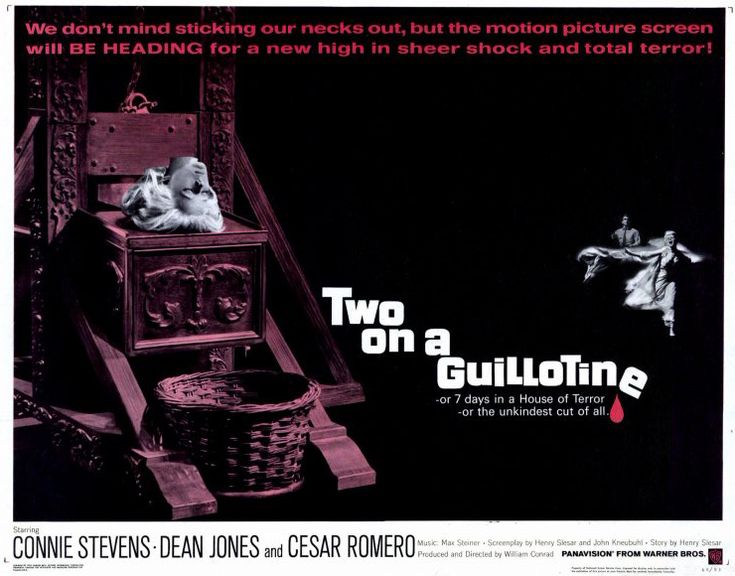 The unkindest cut of all in March
Sometimes we go old-school at Ravencraft's Vault of Horror. This time we spin the wheel back to 1965 in glorious black & white. Saul remembers seeing this back in the days when there were TV channels and some of the off-brand channels played old movies all weekend. It is still with him!
The story is about a stage magician who accidentally kills his wife in a terrible accident on stage involving, you guessed it, a guillotine! What follows is madness with the unintentional camp that comes from movies of this time. But it's not all light. There are some real moments in this film.
It will be an unusual night for sure, with a special guest who will take us deeper into what it was like when this film was released to theaters.
You get two opportunities to join Saul Ravencraft for this celebration of horror. Come early to enjoy the pre-show reel. Saul will provide commentary in between the reels and deepen your appreciation for how this film came to life.
March 8th, at Doc's Drive-in. Food menu in addition to typical movie snacks and a chance to chill afterwards in the amazing underground speakeasy. Film shown on the gigantic drive-in screen! Preshow at 6:30pm. Feature starts at 7:00pm. (Join Facebook Event)
March 13th, at Mister Tramps. Great food and beverages in the private viewing room. (21+ Venue) Just show up. Preshow starts at 7:30pm. Feature begins at 8:00pm. (Join Facebook Event)